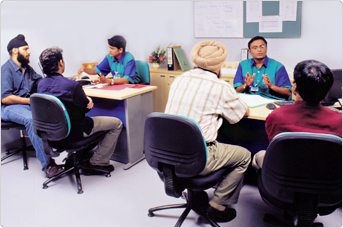 Fleet Owner, fleet operator, broker & corporates or any other business entity that owns / controls at least 1 vehicle for commercial use can become a member of Trans-Connect fleet card program.

The Trans-Connect customer enrollment form (CEF) is to be filled up with all relevant details such as :- (CEF are available at all Reliance Retail outlets & Trans Connect centres)
Name
Address,
Contact numbers,
Fleet details and
Type of card account desired.
The CEF has to be submitted to the nearest Trans-Connect Centre or Reliance Retail Outlet.

The CEF has to be accompanied along with identity proof and address proof such as PAN Card and electricity/telephone bill respectively.

The CEF would then be processed for Trans-Connect card creation and your card will delivered within 15 working days.

You may call on our 24X7 customer helpline for details of the nearest Trans-Connect center or Reliance RO.
Trans-Connect Terms and Conditions