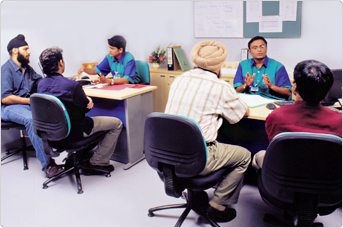 Fleet Owner, fleet operator, broker & corporates or any other business entity that owns / controls at least 1 vehicle for commercial use can become a member of Trans-Connect fleet management program.

Trans-Mobile (Mobile number) Enrolment: Self-Enrolment in Trans-Mobile can be done by clicking on 'Self Enroll'.
Register your mobile number.
Fill online enrolment form.
Upload KYC documents like Identity Proof: PAN Card copy and Address Proof (Any 1): Aadhar Copy, Telephone Bill or Electricity Bill etc.
Welcome SMS consisting of Carrier ID details and login credentials will be sent on your registered mobile number.
Enter or Upload vehicle details in Carrier ID.
Load money and begin fueling.
The Trans-Connect customer enrollment form (CEF) is to be filled up with all relevant details such as :- (CEF are available at all Reliance Retail outlets & Trans Connect centers).
Name
Address,
Contact numbers,
Fleet details and
Type of card account desired.
The CEF has to be submitted to the nearest Trans-Connect Centre or Reliance Retail Outlet.

The CEF has to be accompanied along with KYC documents such as
Identity proof: PAN Card copy
Address proof (Any 1): Electricity Bill, Telephone Bill, Aadhar card copy etc. The CEF would then be processed for Trans-Connect card creation and your card will delivered within 10 working days.

You may call on our 24X7 customer helpline for details of the nearest Trans-Connect center or Reliance RO.
Trans-Connect Terms and Conditions