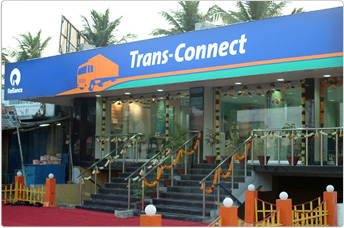 Trans-Connect offers its customers a bouquet of technology based services through Trans-Connect centers. This network of customised retail space is located in prominent transport areas/hubs of all major cities in India. These centers are platforms, which facilitate convenient access to the fleet owners in meeting all their business needs.

Services offered at Trans-Connect centers include:
Trans-Manager:


Select the Reliance pump where you want your vehicle to fuel or make purchases anywhere in the country.
Control the quantity of fuel (liters) that your vehicle can fill or limit the value of any your driver can purchase at Reliance Pump on any route.
You can set security prompts such as PIN number, vehicle number and driver ID; the correct answer of which alone will 'unlock' a transaction.
Block / Unblock your card from being misused when lost or misplaced.
Trans-Money:


Credit loading in your account
Status/ Balance of your account available online
Obtain immediate credit on your account after loading
Trans-Info:

Provides MIS reports for your account such as:
Fuel purchase details with date and time
Vehicle-wise/Card-wise purchase
Cash/Cheque/DD remittance
Credit limit and available balance
Summary of loyalty points
Fleet performance analysis