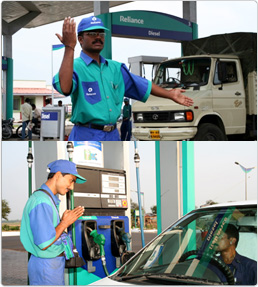 Consistent and courteous service has been the common theme at all Reliance outlets.

Service standards collectively leads to a delightful experience at the RO:
Round-the-clock product availability.
Trained, friendly and courteous pump attendants.
Minimum wait time due to high-speed dispensers.
Easy traffic movement due to ergonomic RO layout
Acceptance of all bank cards.
Clean Toilets.
Drinking Water.
Air Service. To ensure consistent customer experience at all ROs, the front-line staff through regular and repeated training program is motivated and aligned to follow a 'Customer Service Sequence' that ensures consistent customer experience ... Anywhere ... Anytime ...